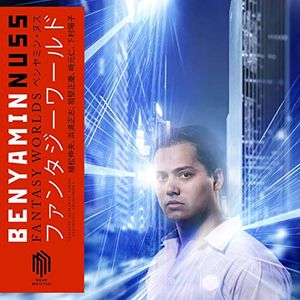 FINAL FANTASY: a name that is well known with gamers for over two decades and more than two generations, has been critically acclaimed as one of the most popular RPG franchises of all time. Not only have the games achieved such legendary status for its storytelling, world building, and gameplay, but also its music. To this day, people instantly recognize the bombast of "One Winged Angel" more than they did in 1997. Now, more than ever, video game music continues to bridge the gap between popular and classical music bringing both young and older listeners together. Benyamin Nuss sought to do the same when he released Benyamin Nuss Plays Uematsu under the classical label Deutsche Grammophon, which is quite a big deal for the game music industry. Nuss went on to perform at game music concerts such as Symphonic Fantasies to becoming a frequent collaborator with Final Fantasy XIII composer Masashi Hamauzu. Through those collaborations, Benyamin strengthened his skills as both composer and arranger. The result of his experiences culminated a gorgeous album that can only be described as a labor of love to Final Fantasy. 
The album is both classy and edgy in that the music isn't afraid to break from the original and present these works in a new light. I found myself reveling in nostalgia, but at the same time feeling like this is my first time hearing these pieces. Even the album concept is nicely realized into a suite form, with Benyamin composing vignettes in each style of the five featured composers. It is no small feat to compose in the style of five different composers and Benyamin does this quite well. My favorite vignette out of the whole bunch is "À Masashi Hamauzu" simply because Hamauzu's style has heavily influenced Benyamin's own writing. The album starts off with a surprising selection "Run!" from Final Fantasy IX. To this day, this is one of my favorite motifs from Uematsu's music. While imagining the moment when Blank gets petrified by the forest, I hear Nuss match my emotions going from playful and chaotic, to bombast and deliberately tense. Theme of Love switches gears entirely by giving us the somber ballad "Theme of Love" from Final Fantasy IV. This is the finest piano arrangement of this to date, successfully utilizing jazzy chords to create this velvety lushness unlike any other version available. 
Following Uematsu, is none other than Hitoshi Sakimoto. While, I really wanted to hear a Final Fantasy Tactics selection, I am pleased to see both "Eruyt Village" and "Giza Plains". "Eruyt Village" plays it pretty safe as far as the arrangement, but still manages to amplify the mysticism and melancholy of the plight of the Viera. Nuss effortlessly skirts across the piano creating a beautiful and ethereal sound. To take a step back to the arrangement, the accidentals that sneak their way into the arpeggios are really a nice touch. I was very surprised by "Giza Plains" in that the rhythm changed quite a bit. I welcomed this moving, bouncy, and energetic take on the theme and for once I couldn't anticipate where it would go next. Giza is a fun and expertly performed arrangement that is hands down the best on the whole album. 
Masayoshi Soken is a composer that I am not quite familiar with, but I have heard tidbits from Final Fantasy XIV A Realm Reborn. While this is my first time hearing "Kugane", which is the theme of the main city in Stormblood, I am captivated by the flowing arpeggios, usage of dissonance, and Japanese folk influences. Arranged by Nuss, the chords clearly show influences by Masashi Hamauzu which only added to the sophisticated form of the arrangement itself. 
Moving right along, we get another arrangement from our esteemed virtuoso: Yoko Shimomura's beloved "Somnus" from Final Fantasy XV. Having been arranged for piano before, I hoped Nuss would deliver a more refined version and he certainly did not disappoint. The first part of it is a slow build, but one that really makes you beg for that climactic and epic section. Once it hit that point, my heart melted a thousand times over. So. Much. Emotion. What a divine take on an already beautiful piece! 
Next comes my absolute favorite composer: Masashi Hamauzu. Some might not have enjoyed FFXIII and its subsequent spinoffs, but I really love Hamauzu's music for each. "Dust to Dust" shows just how much Nuss feels at home arranging and performing Hamauzu's music. The endearing melodies, the tenderness are felt throughout the lush and flowing arrangement. If ever another piano album came out for FFXIII, I really hope Nuss and Hamauzu collaborate for it. "Knight of the Goddess", Hamauzu's single arrangement, came as quite a surprise. As beautiful as it sounds, I really hoped for a fast paced second half of the theme. While that did not happen, I found the arrangement better upon repeated listens as it does have charm. I love the Debussian sound that Hamauzu brings to this theme as it is definitely more subdued and contemplative. "Hauyns Theme" from World of Final Fantasy is a very nice, relaxing arrangement by Nuss. I love the different styles in this as we go from a very soft intro to a moving and bright middle, and then the finale of this is just sublime. Nuss adheres to the Fantasy form, which is quite an appropriate musical pun for this album. 
It wouldn't be a Final Fantasy album without Nobuo Uematsu closing it. "Chocobo Variations" is a nearly nine minute arrangement by Bill Dobbins. Naturally, there are jazz influences which pairs perfectly with the theme. Nuss' performance here is lively and wouldn't be out of place if it were on a Herbie Hancock record. The final piece of this amazing album is none other than "Eyes on Me" from Final Fantasy VIII. For the final time on this album, Nuss once again dazzles as pianist and arranger. The melodic structure of this version gingerly meanders its way as Rinoa did to Squall's heart until it hits with a focused passion. I feel like the full spectrum of the piano is on display here and I find myself feeling sad as the album nears its end. 
I can't express how well done his album is. For fans new and old, for classical enthusiasts, minimalists, and contemporaries, this collection of music is sure to please not only gamers but non-gamers as well. For diehard fans, some of the pieces might be a bit too experimental at first, but upon further listening they really start to grow on you. Benyamin Nuss continues to bring high quality music with each release and I believe he succeeded on all fronts. Nuss managed to show us that game music can have both class and maturity beyond the medium it had been designed. That is the true art and what will keep game music sprinting forward for generations to come. (5 out of 5 stars)

Fantasy Worlds is available on Bandcamp, iTunes, Amazon, Spotify, Apple Music, Deezer, Tidal, and Qobuz.